20 Most Promising Smartcity Solution Providers - 2017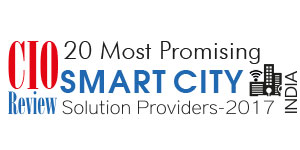 The global market for smart cities is estimated to exceed USD 1.2 trillion by 2020, led by the growing world population. As the rate of ur­banization is accelerating rapidly, the govern­ment is under tremendous pressure to deliver public services such as transportation, water, electricity, and affordable housing. Faced with the complexities of main­taining citizens' quality of life and living, the government has taken all-encompassing approach to enable cities to integrate technological dynamism into municipal op­erations, from transportation to infrastructure repair and more. Moreover, the government is mobilizing and has formulated various strategies for smart city transforma­tion in order to improve operational efficiencies, maxi­mize environmental sustainability efforts, and create new citizen services.
Today, we are witnessing the exciting era of a digitally connected and built environment with diffused installation of connected digital sensors to better manage urban areas. As a result, organizations across the geographies continue to develop innovative digital technologies. The inclination to develop 100 smart cities in India by 2022 is mainly driven by the inspiration to surpass challenges posed by the current traditional and conventional cities. However, mitigating these critical bottlenecks in a systematic manner is crucial for smart cities which further motivate the shift towards more sustainable measures among all stakeholders: citizens, businesses and government.
To ensure that the smart city approach can deliver the greatest impact to the global economy, CIOReview India presents a list of "20 Most Promising Smartcity Solution Providers". Being closely scrutinized by a distinct panel of judges including CEOs, CIOs, CXO, analysts and CIOReview editorial board, we believe these solution vendors can help elevate the government's smartcity initiative to build a smart infrastructure and encourage them to embrace collaboration, innovation, and the application of that information to solve public problems. All this for a 'Smarter India.
We present to you CIOTechOutlook 20 Most Promising Smartcity Solution Providers - 2017.
| | |
| --- | --- |
| 75F India | Specialties revolves around energy efficiency, smart buildings, HVAC zone control and building automation. |
| Brio Energy | Provides microturbine, concentrated solar thermal parabolic trough, heat pump and compressors to enable optimal energy utilization. |
| CIMCON Lighting | A provider of software powered lighting controllers and Internet of Things (IoT)enabled smart city lighting management solution. |
| CMS Computers | Specializes in solutions such as e-Governance, transportation & traffic, energy management, surveillance & workforce, smart grid and smart city. |
| Ecolibrium Energy | Renders demand side energy management solutions to monitor & control power grid infrastructure for distribution companies, government and large industries |
| EFKON India | Avails end-to-end solutions for intelligent revenue collection system, toll management & parking management and advanced traffic management system including intelligent lighting system |
| Electronet Equipments | Builds instrumentation & automation equipments like smart water metering, flow meter, temperature transmitter amd other analytical instruments, pH Sensors |
| Fluentgrid | Delivers smart utility, smart grid and smart city solutions involving smart metering, asset management & maintenance and advance analytics. |
| Hexagon Geospatial | Expertise lies in GIS, remote sensing, geospatial technology, data catalog & compression, mobile mapping, web GIS, photogrammetry, and map based workflows. |
| IL& FS Technologies | An Indian infrastructure development and finance company handling infrastructure projects in different sectors including transportation, area development, e-Governance and health initiatives. |
| Intelizon | Intelizon is a system designer and focuses on integrating the best available technologies |
| Maven Systems | A M2M/IoT company with hardware and software platforms for automated lighting, smart metering, remote monitoring of construction and mining equipments. |
| Mindteck | Offers comprehensive suite of smart city solutions ranges from traffic management, energy efficiency to e-governance, intelligent lighting systems, home & building efficiency systems and smart... |
| ParkingRhino | Offers map based geo navigation mobile app for on demand parking discovery. |
| Qognify | Enables safe/smart city solution to anticipate, manage and mitigate security and safety risks, maintain business continuity, and optimize operations. |
| Spice Digital | Caters IoT-enabled m-Governance, smart solutions for metering, lighting & parking,healthcare and smart financial services. |
| TTechCrafter LLP | Offers delivery solutions in Automated Fare Collection(AFC) and payment systems to businesses across geographies. |
| Vaaaninfra | Provides solutions such as automatic vehicle counter classifier & barrier gates and toll lane controller to optimize the movement of vehicles over transport networks. |
| Valluri Technology Accelerators | VTA focuses on developing solutions targeted on better utilization of Data Analytics for the generation of Predictive Intelligence and Integrated Modeling interventions |
| Zoyo Parking | Develops SaaS based smart parking platform that includes features such as e-pass/ token to manage parking spaces. |